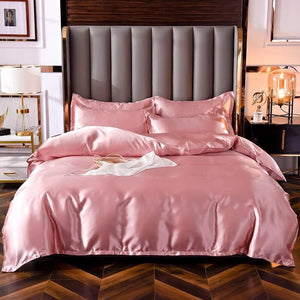 When it comes to getting the best sleep of your life, having silk bedding sets in your own bed is a worthwhile investment.

Inclusion for Bedding Sets: 2 silk pillowcases, 1 flat bedsheet and 1 quilt / duvet cover with zipper. 
Duvet Cover is used to cover your comforter or quilt, it without filling inside. The Duvet Cover adopted a hidden zipper on a side which is convenient and well concealed. Great woven craftsmanship makes this duvet cover set durable for lasting longer to use. 
Bedding Fabric: Silk 
Fabric Material: Faux Silk
Fabric Sub-components: Polyester Fibre
Product Grade: Qualified Goods
Pattern: Solid Color
Style: Modern Simplicity 
Care: Hand Washing 
Silk pillowcases can improve skin and hair hydration, prevent fine lines and wrinkles, and result in smoother, frizz-free hair every morning.
Size
Quilt Cover
Sheets
Pillowcase
Single (4 pcs)
1.2
150*200 cm
150*230 cm
48*74*2 cm
Double (4 pcs)
1.5 
180*230 cm
170*230 cm
48*74*2 cm
Queen (4 pcs)
1.8 
200*230 cm
230*250 cm
48*74*2 cm
King (4 pcs)
2.0 
220*240 cm
230*250 cm
48*74*2 cm